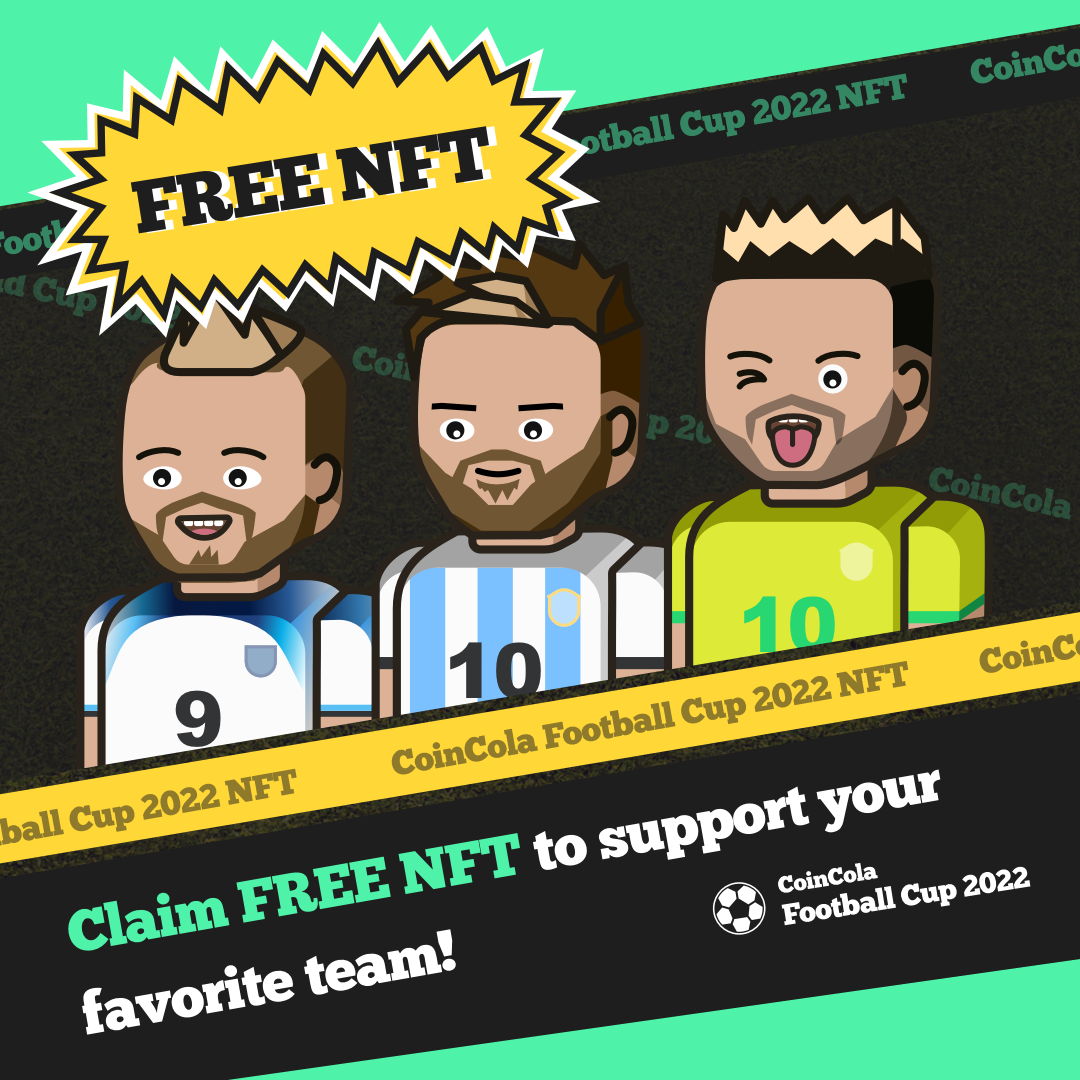 Dear CoinCola users,
CoinCola is launching an NFT Football Cup Campaign in honor of the 22nd Football Cup, the most-watched football event worldwide, with a plethora of exciting rewards.A selection of NFT artworks commemorating the Qatar 2022 Football Cup are featured in the campaign.
The NFT campaign has three stages that follow the Football Cup schedule. During these stages, participants can get free NFTs by doing simple tasks. Users only need to install CoinCola on Google Play, create an account, share the NFT affiliate URL, and then collect their favorite team's NFT in the first stage. For users who do not currently have a private wallet, the NFT can be transferred to a CoinCola hosted wallet or the user's own private wallet.
Collections of CoinCola Football Cup NFT
The NFT campaign officially begins on November 21, 2022. Below is a comprehensive description of the two CoinCola Football Cup NFT collections, which feature a selection of Qatar Football Cup-themed NFT artwork.
1st Collection: CoinCola Football Cup 2022 Emojis that were popular in 2022 will be included in the free CoinCola Football Cup NFTs. If you want, you can also use it to create your very own meme based on your favorite sports team or player.
2nd Collection: CoinCola 2022 Football Cup Moments is another collection of NFT artworks that will allow you to experience some of the tournament's most memorable moments. CoinCola 2022 Football Cup Moments is available now.
The goal of the NFTs is to ensure that you are a part of the excitement and action at this year's tournament. You can be a piece of it — you don't need to play football yourself or even watch it — yet if you have any desire to engage somehow or another, they're there for you.
The CoinCola Football Cup 2022 NFT is currently live on OpenSea!